The Drake Hotel – opened in 1920 and built in the Italian Renaissance style – is a luxury hotel that has an enviable location on Chicago's Magnificent Mile with stunning views of nearby Lake Michigan…
A vintage 1921 advertisement for the hotel in Photoplay Magazine …
The hotel entrance is on E. Walton Place, just off North Michigan Ave, also known as Chicago's Magnificent Mile …
As you enter the lobby, to your left is The Palm Court – the Drake's venue for afternoon tea.
The interior of The Palm Court …
And now onto our image tour:  here is a view of a table set up for afternoon tea in The Palm Court …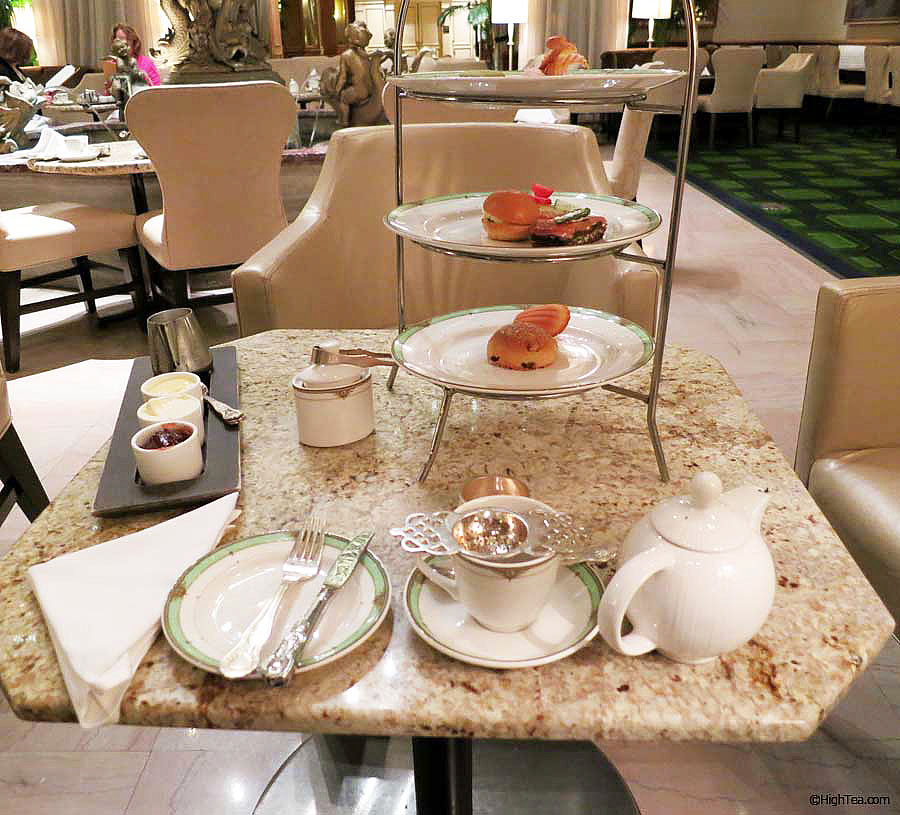 Table Setting for Afternoon Tea at The Drake
Below are the finger sandwiches at The Drake – a cucumber and tomato sandwich is in the foreground, and an egg salad is in the rear left.  Lastly, we have a smoked salmon and asparagus sandwich – all prepared on house made breads.
And, of course, a raisin scone is a must for any afternoon tea. The Drake serves it with preserves, lemon curd, and English Double Devon Cream.
Sweets and pastries are your reward at the end of afternoon tea  – here we have an opera cake, a pistachio macaron, and a strawberry-cream pastry.
The elegant teapot used by The Palm Court at The Drake …
You can choose from over 20 selections of tea at The Drake.  Varieties include The Palm Court's own custom black tea blend as well as several oolong's, greens, a white, and tisanes/herbal infusions. The china is made by Steelite of England.
——————————————————————————————————————————————-
One last note on The Drake Hotel in Chicago.  Sometime in the early 1950's, Marilyn Monroe and Joe DiMaggio visited the Cape Cod room – one of the The Drake's in-house seafood restaurants – and carved their initials into the world-famous wooden bar there.
Their initials can still be seen to this day …